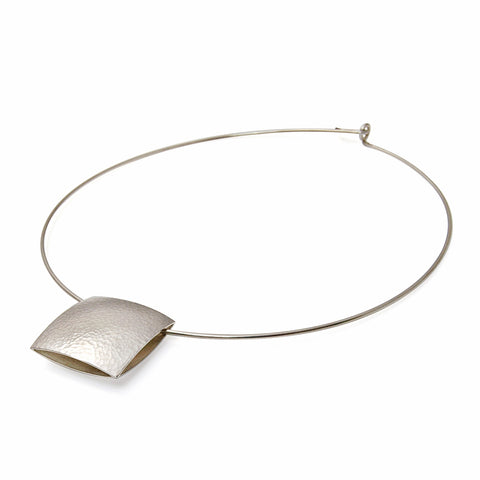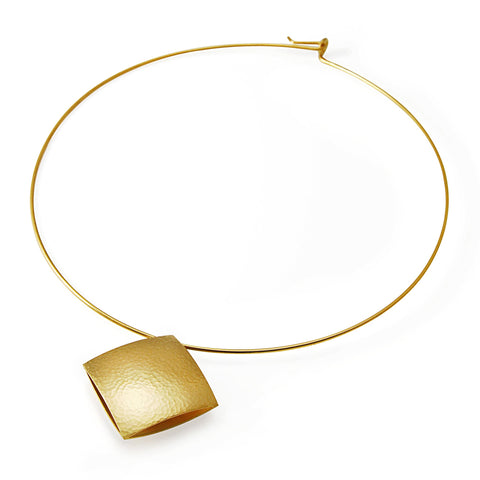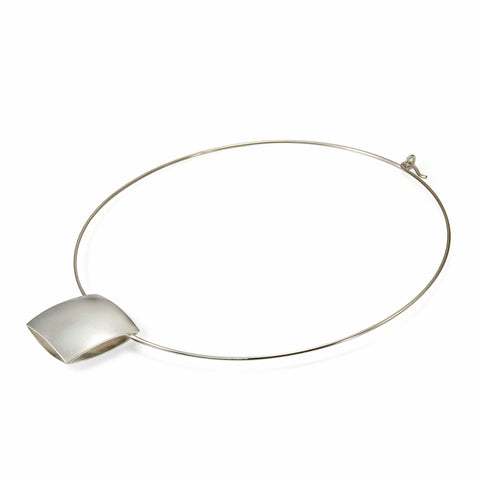 Heather O'Connor
Pillow Collar Neckpiece
A classic piece from the Pillow Collection, it makes a sophisticated and striking addition to any wardrobe.
The collar is made from a hardened, sprung silver wire, holding its minimal circular form.
This versatile design offers the wearer a number of styling options; the pillow can be hung as either a diamond or square from the collar with the option of the subtle hammer texture or the satin polish finish showing prominently.
Materials & finish


Sterling Silver or 22ct Gold Vermeil on Sterling Silver.
The Pillow Section has a soft polished hammer texture surface on one side with a smooth satin polish finish on the reverse.
Dimensions


Collar wire: 1.5mm hardened and sprung sterling silver wire
Collar circumference:  Approximate circumference 45cm
Pillow size : 3cm (h) x 3cm (w) x .8cm (d)
Sizes available


One size
Product care


As with all silver items tarnishing may occur over time. To brighten up the silver you can rinse the item in warm soapy water and dry thoroughly with a soft cloth or tissue. A polishing cloth can be used on the silver sections, but do not use on gold vermeil.
To help prevent tarnish it is recommended you store your jewellery in white acid free tissue paper, a plastic ziplock bag or in an airtight jewellery box.
Availability & delivery time


Made to order
Sterling silver version: 1 week
Gold vermeil version: 2 weeks

Designer intro


Heather established her London studio in 2004. A graduate of the Royal College of Art, she combines traditional and modern techniques, handcrafting jewellery with a refined, contemporary aesthetic. Quality craftsmanship and an acute attention to detail is synonymous with her brand, accentuated by the minimalist language of clean lines, and simple form that flows throughout her designs.
Heathers designs transcend seasonal trends in favour of timeless elegance. Each piece is thoughtfully created, to be worn and cherished for years to come.