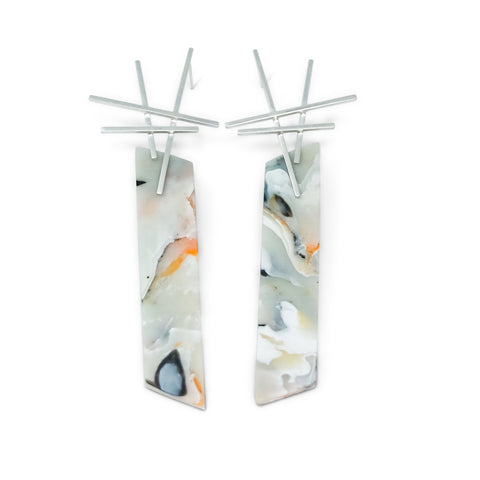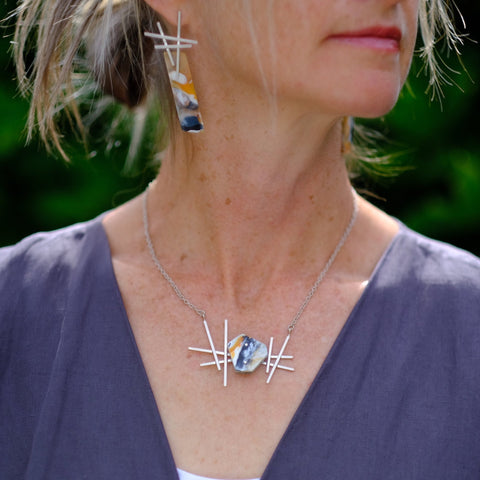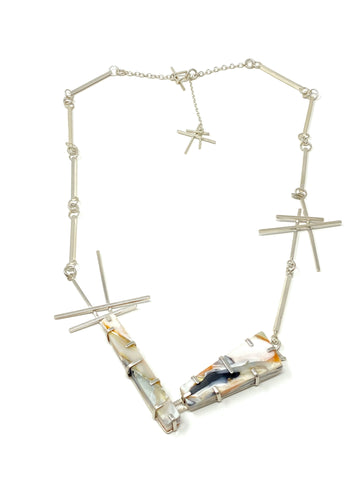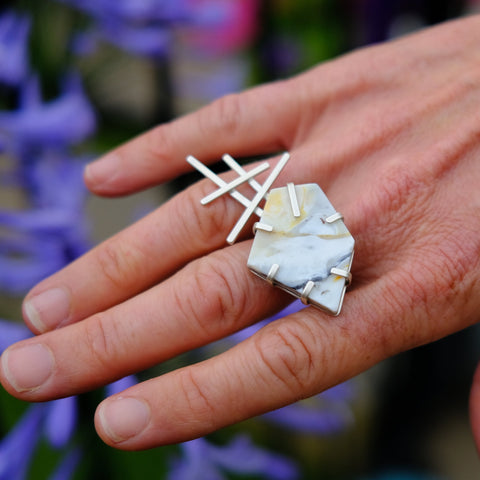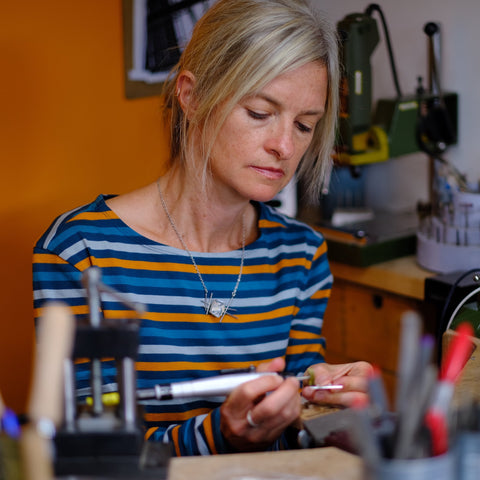 June Showcase: Deborah Beck
Deborah Beck creates environmentally conscious jewellery collections from her small studio Holmfirth, West Yorkshire. The daughter of a biologist, Deborah's interest in the natural world was ignited at an early age. Following previous careers in TV drama production and as a Personal Trainer, her jewellery making journey began more recently.  Deborah retrained with a Diploma in Art & Design (Jewellery) at The Manchester College, graduating with a distinction and a special award for her creativity. She now combines her environmental concerns with her silver and plastic-smithing skills, to create sustainable wearable art using recycled metals and discarded waste materials. 
 Earlier this year, Deborah's Legacy Brooch won Silver and the NAJ&BATF Award in the Goldsmiths' Craft & Design Council Awards, 2023, and she has been selected as a finalist in the Creative Designer category in the upcoming Retail Jeweller UK Jewellery Awards.
Other recent achievements include selection for a Professional Jeweller Collections of the Year Award, 'Shine' and 'Getting Started- Stars in The Making', with The Goldsmith's Centre 2022 and 'Rising Stars' 2021 at The New Ashgate Gallery.  
 Deborah's innovative work has exhibited at galleries which include Manchester City Art Gallery, Leeds Craft and Design Gallery, Billcliffe Gallery, Glasgow and Kath Libbert Gallery, Saltaire. She recently held her first solo exhibition at Globe Arts Studio, Slaithwaite. Deborah regularly exhibits with her work in person at contemporary crafts events around the country and has just returned from her first international event, MAD About Jewelry Week at The Museum of Arts and Design, New York. Regular UK events include Cluster Contemporary Jewellery Fair, Handmade Chelsea, GNCCF, Lustre, The Hepworth Gallery Makers Fair and Art & York, where she also won the Jan and David Roberts' Emerging Maker prize. Deborah's jewellery has featured in the BBC dramas Death in Paradise, In the Club and London Kills.