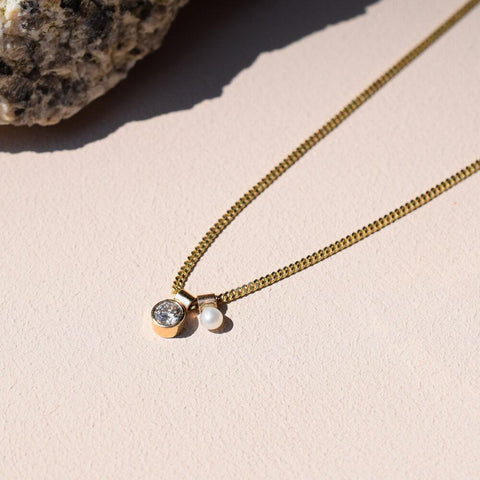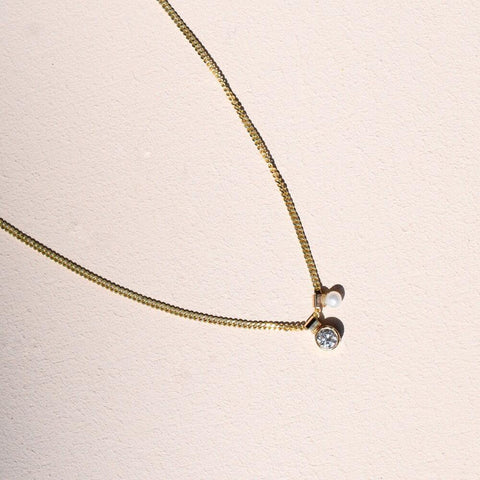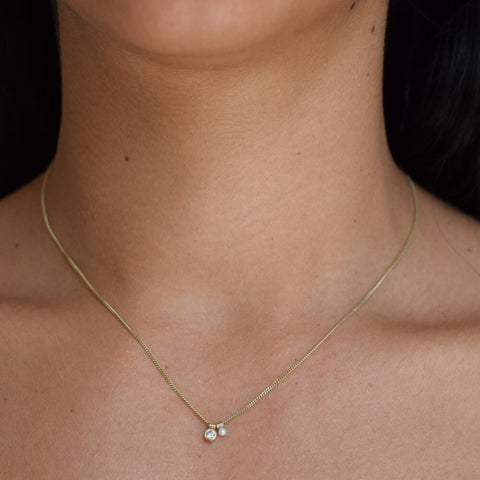 Isle Jewellery
Ama Diamond & Pearl Necklace
The Ama, literally meaning 'sea woman'. These are traditional Japanese female pearl divers who have been free diving to hand pick beautiful natural pearls for over 2000 years. The Ama collection is a celebration of classic femininity, strength and the simple curve.
Materials & finish


Pendant and chain: 9ct Gold
Stone: White Diamond
Pearl: Japanese Akoya Pearl
Finish: Polished
Dimensions


Diamond size: 0.1ct/3mm round
Pearl size: 2mm
Chain width: 1mm
Chain length: 18"/45cm
Sizes available


One size
Product care


Pearls are especially delicate. To help maintain their lustre, only put your pearl jewellery on after applying makeup or perfume to reduce discolouration. As pearls are soft gems, remember to remove your pearl jewellery before doing any sport or manual work to minimise chances of knocking or scratching them as this will quickly damage the surface. To clean pearls, gently wipe with a soft cloth and avoid any harsh chemicals and abrasives.
Availability & delivery time


Made to order
2-4 working weeks
Designer intro


Isle jewellery was founded by two Northern Irish sisters - one living in London [Geraldine] and one living in Belfast [Helen]
The themes within the collections reflect their surroundings in Ireland - a country that is famous for its natural beauty and tradition of storytelling. The pared-back, simple aesthetic has been influenced by Geraldine's time living in Japan - a country with a deep appreciation of simplicity within design and a respect for quality materials and craftsmanship.