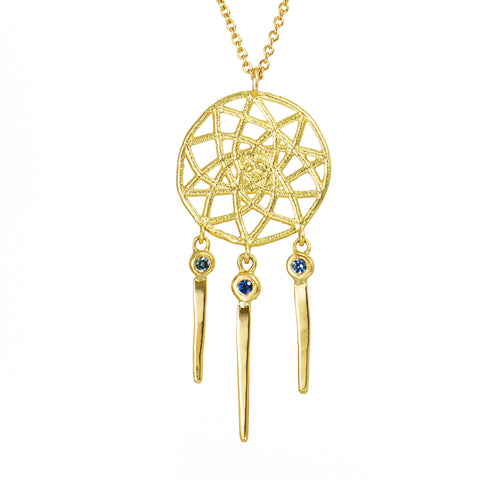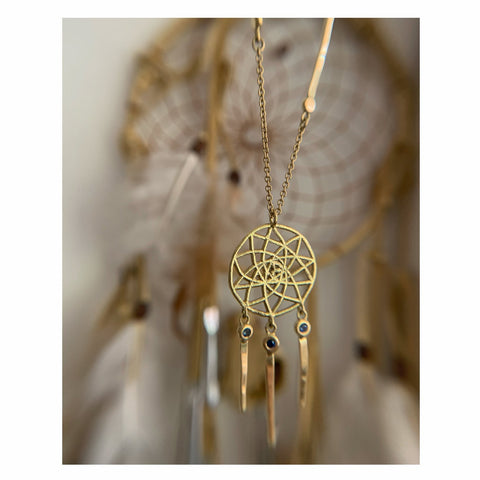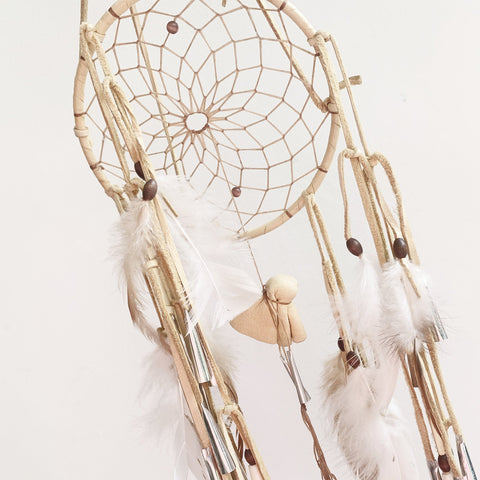 Claire Macfarlane
Dreamcatcher Sapphire Necklace
The Dreamcatcher protects you from bad dreams and nightmares. This necklace is solid gold with sapphire details on the 'feather' tassels and detail incorporated into the chain.
Materials & finish


Pendant:18ct recycled gold
Chain:18ct Yellow gold
Stones: Sapphires
Dimensions


Pendant length: 4cm

Sizes available
Chain length: Chose from 18" or 20"
Product care 


Clean your jewellery at home with warm water, a dash of fairy liquid and a soft toothbrush. Dry with a soft, lint-free cloth.
When storing your jewellery, keep each item separate (including each individual earring) by wrapping them in tissue or cloth when travelling, or storing in separate compartments of a jewellery box. Take care to avoid humidity or heat exposure, for example in a bathroom or near a radiator, as this will cause tarnishing and the dampness will attract dirt and dust.
Remove rings and bracelets before doing any tasks that might damage or scratch them, e.g. exercise or gardening.
Always put your jewellery on last, after applying makeup, perfume, and hair products so that chemicals and acids don't affect the surface of your jewellery.
Availability & delivery time


Stock item

3 working days
Designer intro


Claire creates intricate drawings of sparkling gold wires and textures, forming jewellery to treasure forever. Peppered with gems, the delicate motifs offer a perfect balance of fine jewellery with a laid-back style.
The bohemian and nostalgic spirit of Claire's work extends beyond design with the use of recycled and Fairtrade gold, keeping waste to a minimum, and respecting people and the planet.
Quality and craftsmanship are at the heart of every collection.